Prekių ženklai
Prekių ženklai
UNIQ
Kompanija Uniq kuria ir gamina inovatyviausius rinkoje prezervatyvus be latekso. Šie prezervatyvai gaminami iš sintetinės dervos (AT- 10), kuri puikiai apsaugo ir leidžia mėgautis natūraliais pojūčiais.

Prekinis ženklas savo produkciją tiekia tiek Šiaurės, tiek Pietų Amerikai, tiek Europai. Kompanijos gaminami prezervatyvai suteikia puikią apsaugą, malonesnius pojūčius, didesnį jautrumą. bei užtikrina praktiškumą - Uniq prezervatyvus galite saugiai laikyti piniginėje iki dviejų metų.

Uniq gamina prezervatyvai yra ypač aukštos kokybės, jie sertifikuojami Vokietijoje ir atitinka visus aukščiausius keliamus reikalavimus. Prekinio ženklo prezervatyvai - tai saugumas, natūralūs pojūčiai ir išsigelbėjimas alergiškiems latekso produktams!
Prekė sėkmingai patalpinta į krepšelį!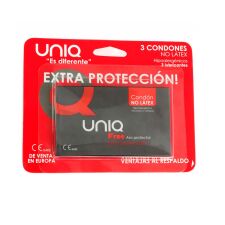 Prezervatyvai "Uniq Free" be latekso, puikiai tinkantys žmonėms,...
Apie mus
Mūsų erotinių prekių parduotuvė išsiskiria ne tik tuo, jog bene pirmieji Lietuvoje pradėjome siūlyti sekso prekes mažomis kainomis, bet ir tuo, kad pirmieji supratome, jog apsipirkti sekso reikmenų parduotuvėje gali būti greita ir paprasta, ir tai galima padaryti visiškai anonimiškai! Mes dalyvaujame įvairiose sekso prekių parodose ir erotines prekes perkame tiesiai iš gamintojų! Tai leidžia pasiūlyti tik originalius meilės žaislus Jūsų santykių paįvairinimui.
El. parduotuvė prekės.suaugusiems.lt buvo sukurta atsižvelgiant į vartotojų poreikius, o asortimentas parinktas atsižvelgiant į Jūsų pageidavimus. Pirkėjams nuolat siūloma iki 2000 skirtingų sekso prekių bei seksualių apatinių.
Naujienlaiškis
Sužinokite apie akcijas pirmieji! Gaukite informaciją apie geriausias kainas el. paštu